If you love wine and you love food, St. Helena is THE town in Napa Valley to visit. Just make sure to pack stretchy clothing!
Some of my FAVORITE Napa Valley wineries and restaurants are in St. Helena and I low-key spoil myself with a visit to this charming wine country town at least once a year (if not more.) I guess that's a perk of living an hour away! I've been slowly working on gathering all the tips for this post for over 5 years so I can share THE BEST gems with you!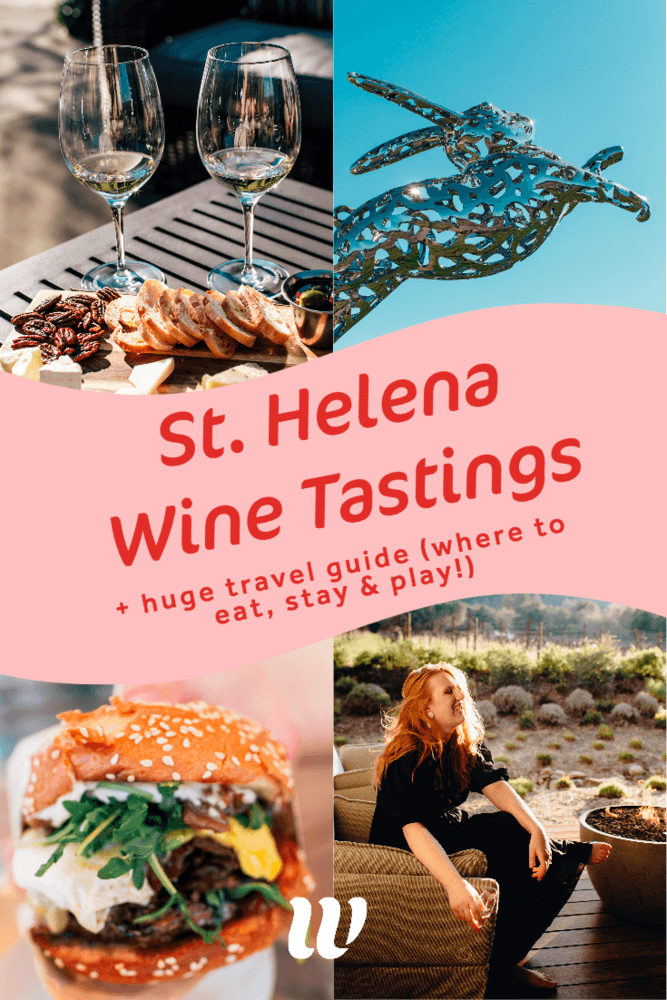 Here's the thing about wine tasting in Napa Valley: it's not cheap. Unlike other California wine regions like Lodi or Anderson Valley, where you can find tastings under $10 or even free wine tastings sometimes, Napa is a world-famous region. And that comes with a world-famous pricetag.
Tastings will cost anything from $20-200+ per person, so as you can imagine that cost can quickly rack up over the course of a wine country getaway. BUT, there's a secret hack that most locals know about and use when we visit St. Helena and Napa Valley: The Wine Passport.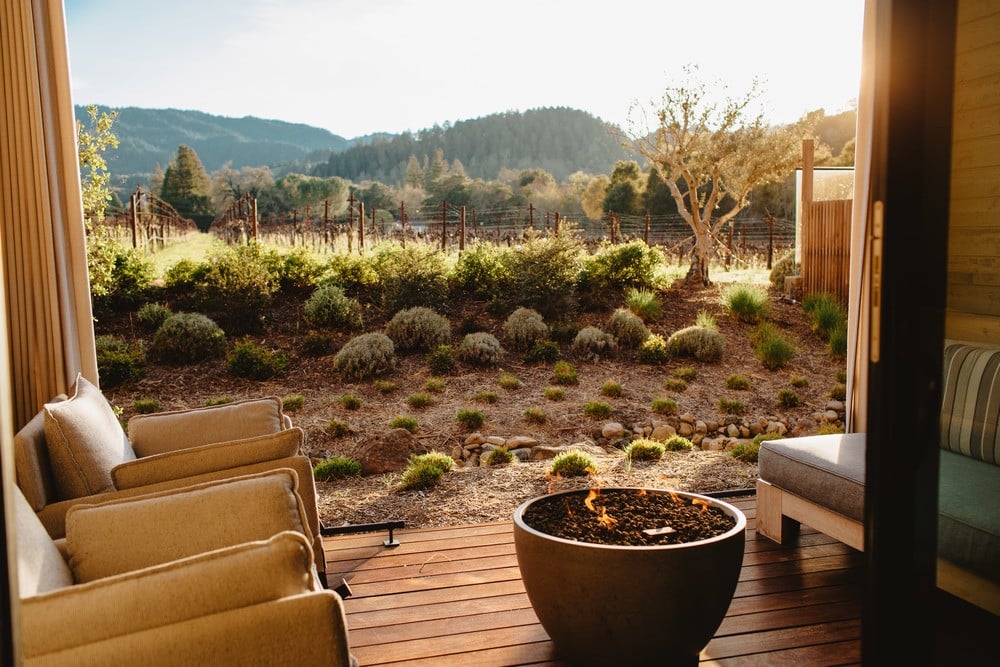 Us locals use a wine passport! So there's actually a few different wine passports out there and they're all called different names, but my FAVORITE is the St. Helena Little Book of Big Experiences, aka the St. Helena Wine Passport.
And let's be honest, you're totally visiting more than 2 wineries when you come to St. Helena, so this is a no-brainer hack to use.
8 Stunning St. Helena Wineries To Visit
So, that brings us to my favorite St. Helena Wineries list! I think some of the best wineries in Napa Valley are in the St. Helena area for both aesthetics, friendly staff and top-notch wine. Here's my favorites. (PS-Most are on that passport!)

Clif Family
Clif is our all-time favorite Napa Valley winery. If you follow on Instagram you know we always have a bottle of Clif on hand and we love their low-key tasting room that's always filled with friendly staff.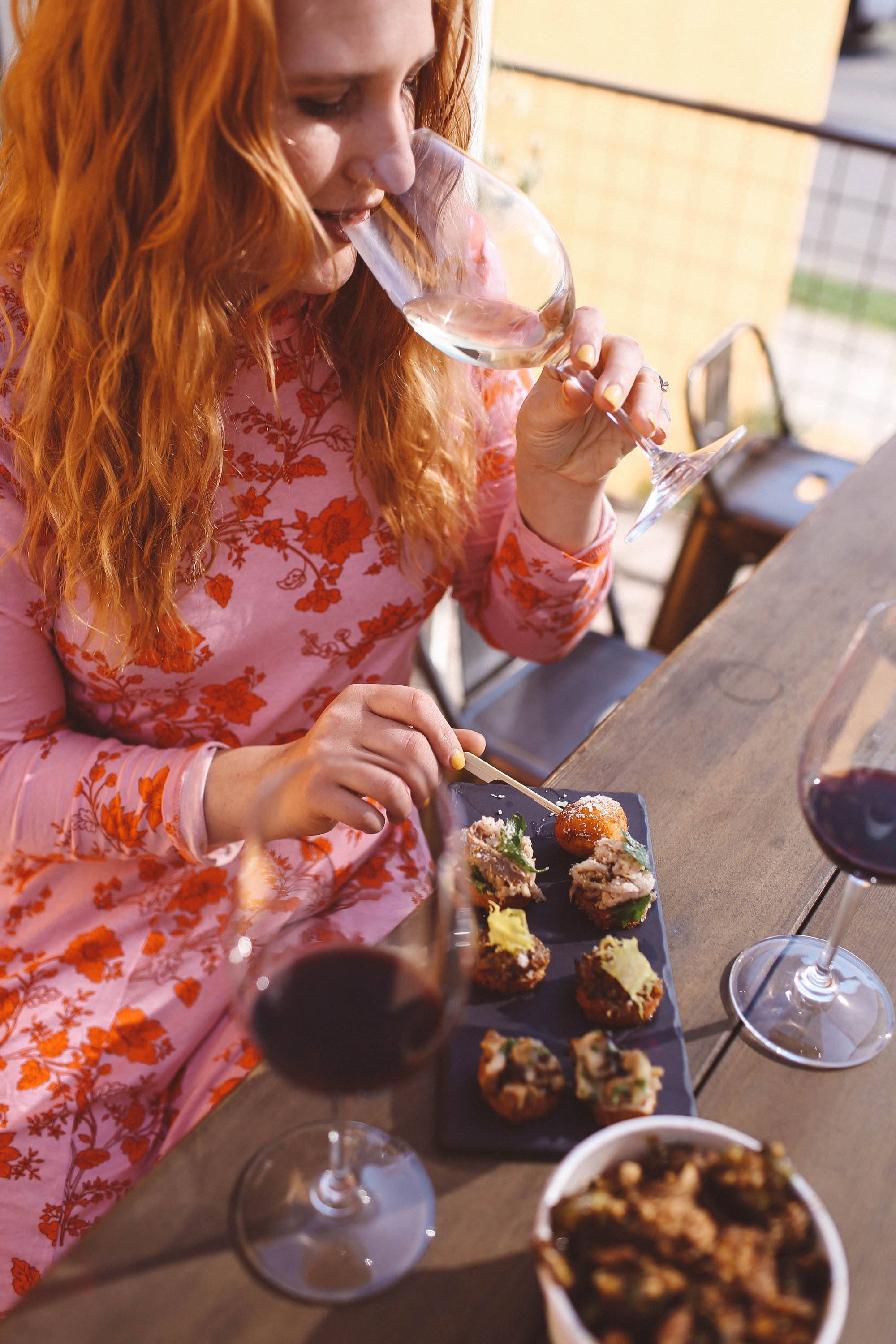 You may recognize the Clif name from Clif Bars — it's the same family! So, not only do they make amazing wines, they also really shine when it comes to food. That's why we usually schedule a wine tasting here around lunchtime so we can stop by their food truck outside and pick up a tasty lunch to pair with our wine.
If you can try it, I recommend asking to taste Kit's Killer Cab, which is my favorite Napa Valley Cabernet Sauvignon. The grapes are sourced from Cold Springs and Croquet Vineyards, both on Howell Mountain.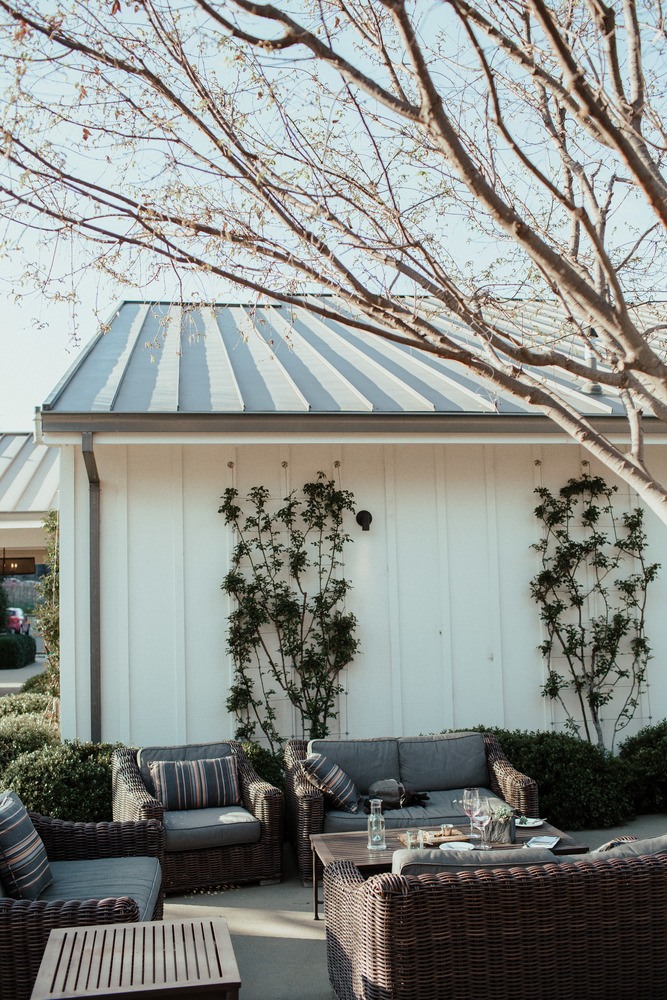 UG, this winery is so dang pretty!! Brasswood Cellars is tucked on the northern side of St. Helena on a beautiful estate that has a mix of trendy farm vibes with California luxury. Aka: good views of the mountains, cute decor, tons of comfy outdoor seating (because wine just states better outside!!) and lawn games.
We fell in love with our cheese and wine pairing tasting at Brasswood. So much so that we came back the next day to buy some of their handmade olives because I was OBSESSED!I recommend scheduling your tasting here as the very last one of the day so you can lounge outside in the warm afternoon and then stay on property for dinner (yes, they also have a restaurant, more on that later!)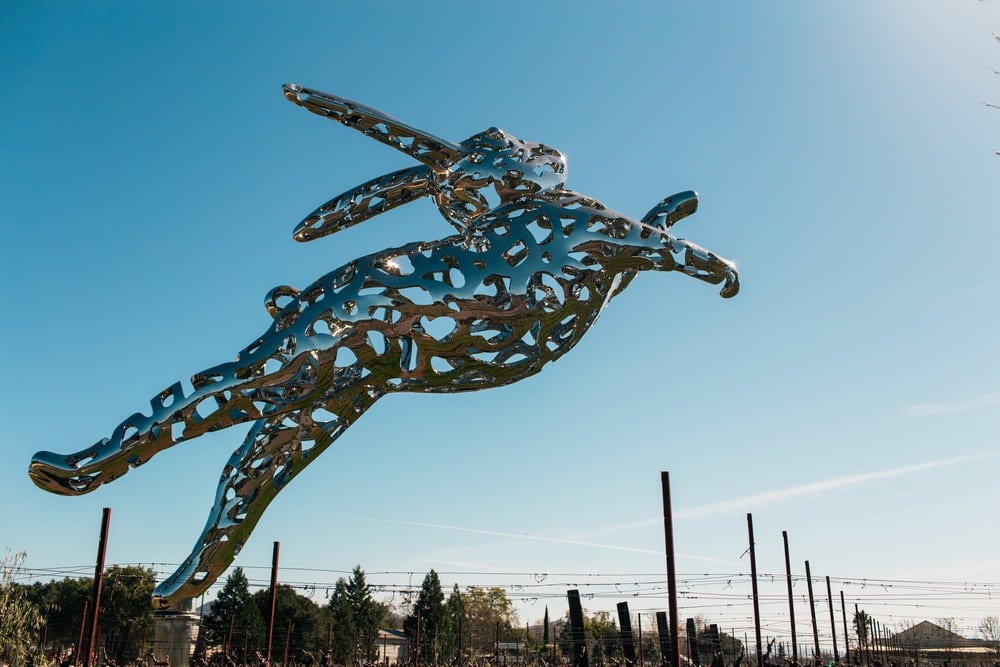 You can't miss Hall Wines. I mean, they have a giant silver rabbit in their vineyards, which sort of marks your entrance to town along the St. Helena Hwy / Hwy 29. The bunny's name is Bunny Foo Foo and yes, you are welcome to use him as the background of the perfect Instagram shot if you want.
You may also recognize Hall from Ari's Season of the Bachelor (for all my Bachelor Nation members out there!!)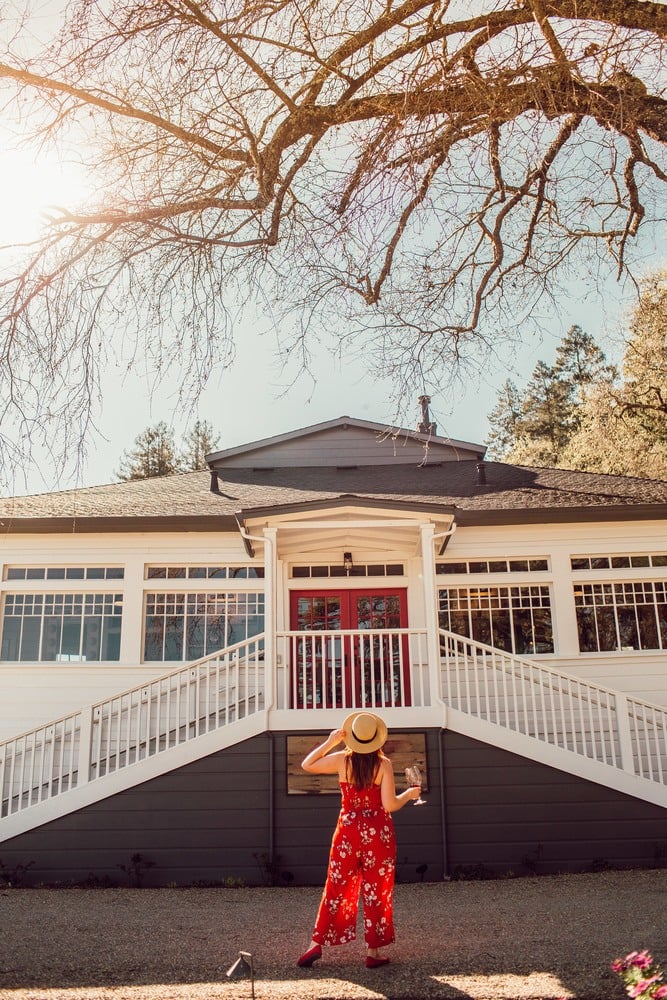 AXR
We found that AXR is a winery that a bit under the radar (but is stunning and has amazing wines, so I'd guess they're going to blow up soon!) It's easy to drive by this winery as the white house/tasting room is tucked back in the trees on a small plot of vineyards on the edge of town.
But, what you can't see from the road is the small grove of Redwood Trees out back which yes, is one of the wine tasting stops during a visit. Seriously – sipping white wine on a hot day under the shade of a Redwood tree is MAGIC.
It's by appointment only, so make sure to call ahead.
Guys, this family-owned winery is too cute! We were the only ones there when we visited so we got a private tasting and had such a fun time chatting with our sommelier. Finding a wine tasting experience that feels small town is VERY rare in Napa Valley and we love tastings like these. They have fantastic reds, I especially loved their Petite Syrah!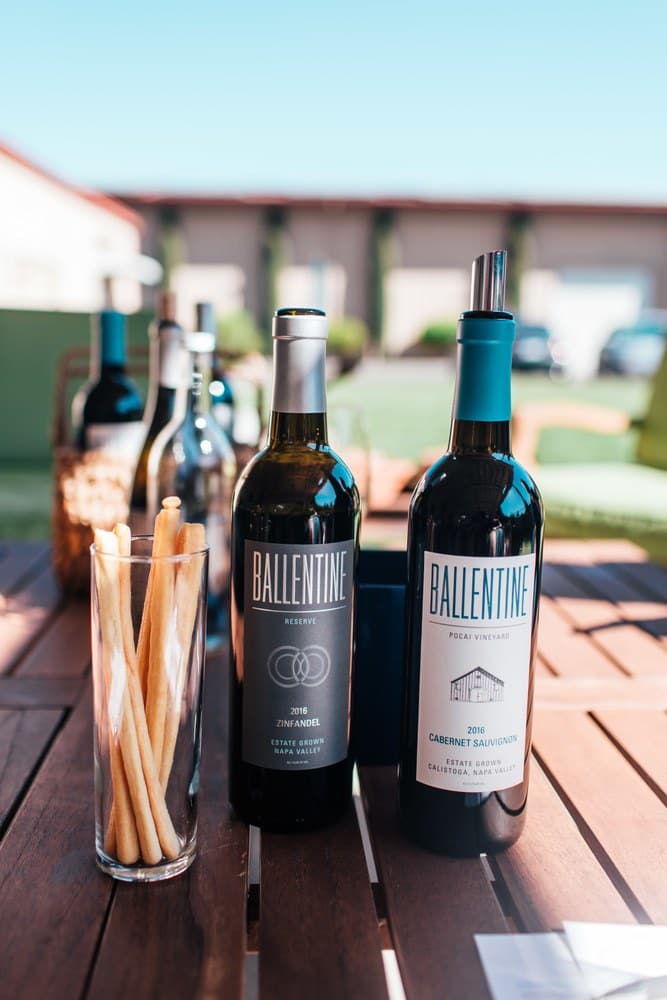 Ballentine currently doing a lot of renovations and updates. I really hope they'll paint their tasting room or barn this stunning shade of blue that's used in their branding, but at the very least, you can usually find this cute AF blue truck parked outside that makes me smile and is the PERFECT backdrop for Instagram photos. Ballentine Vineyards is dog friendly, so you can bring your pup here!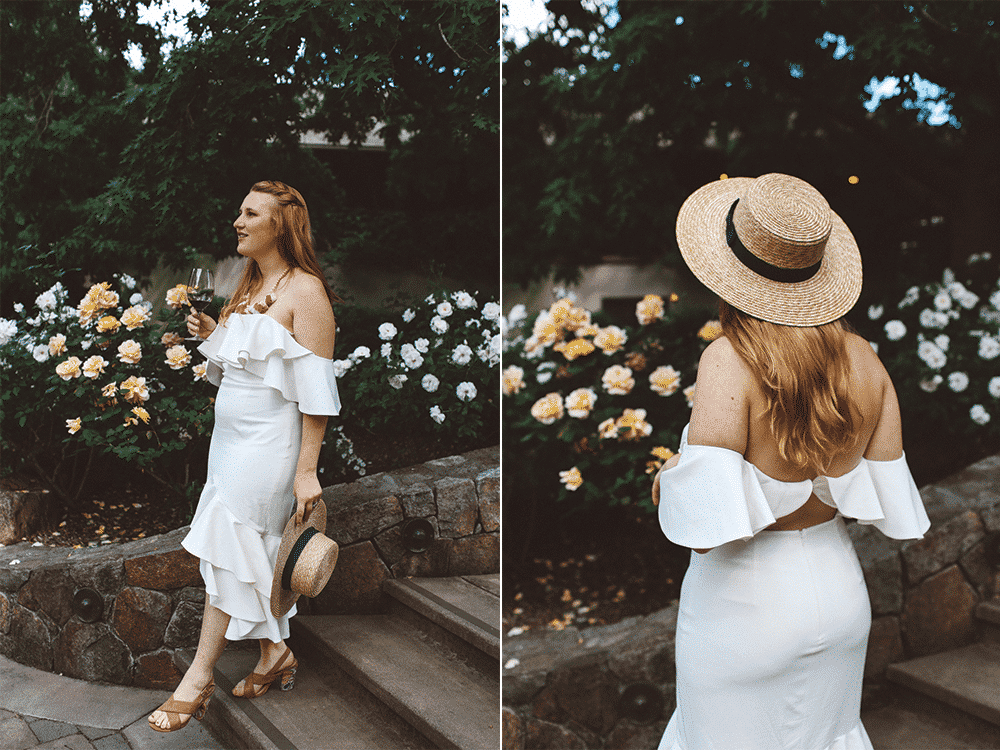 Freemark Abbey was one of the first St. Helena wineries I visited a few summers ago and I still remember how relaxing their back patio is! Think tons of roses, shaded patio tables, etc. It made the perfect afternoon for a girl's trip.
Freemark Abbey is the first female Napa winery owner on record!
They make some of the best Cabernet Sauvignons here. The winery has exclusive rights to some of the best vineyards in the valley so you know you'll always get a fantastic wine tasting here!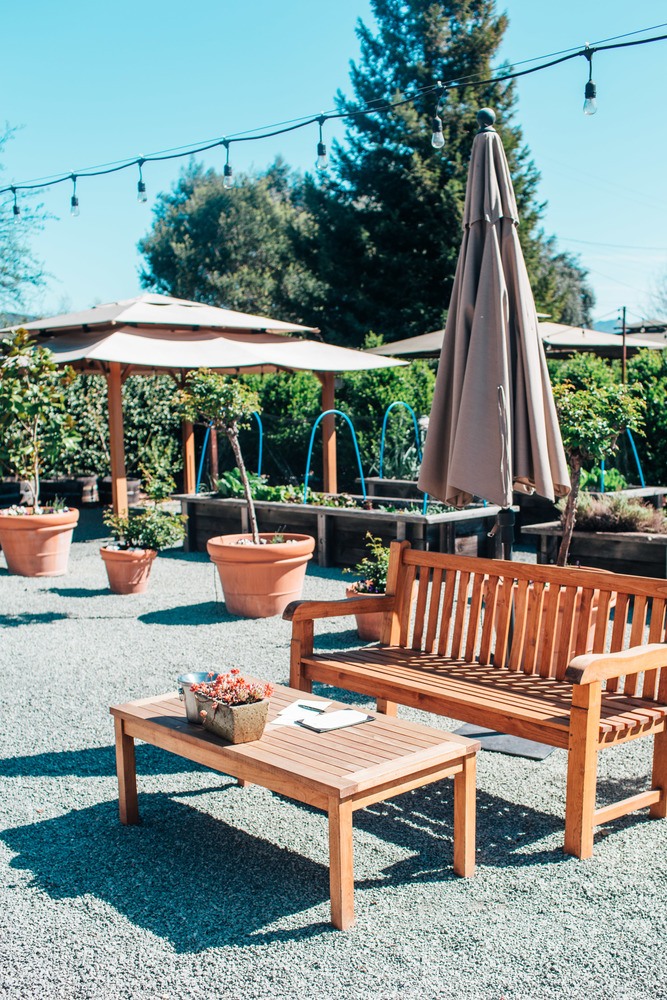 These last two wineries aren't technically in St. Helena but are both parts of the wine passport and are AMAZING to stop by!
Elizabeth Spencer is technically one of the Rutherford wineries but it's just 10 minutes down the road from St. Helena and is THE CUTEST lil place to stop by on your drive back to San Francisco! Plus, it's part of the St. Helena wine passport.
The tasting room is in a historic brick building that dates back to 1878 and used to be the post office (how cool is that?!) Since it's too small to sit inside, they have tastings outside in a garden. Soaking in the sun and tasting small production wines is what Napa Valley is all about.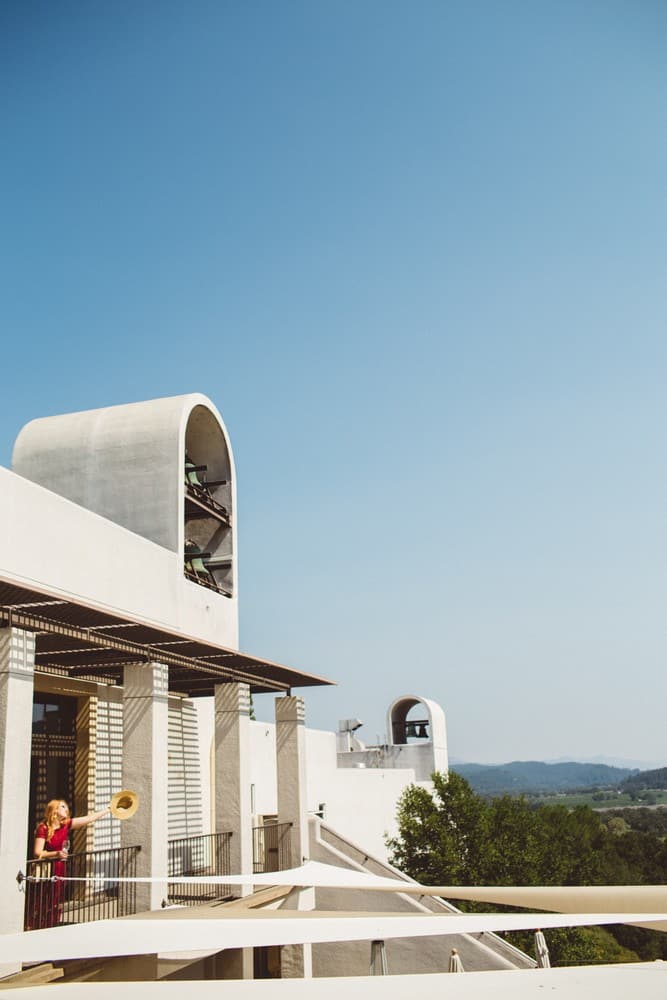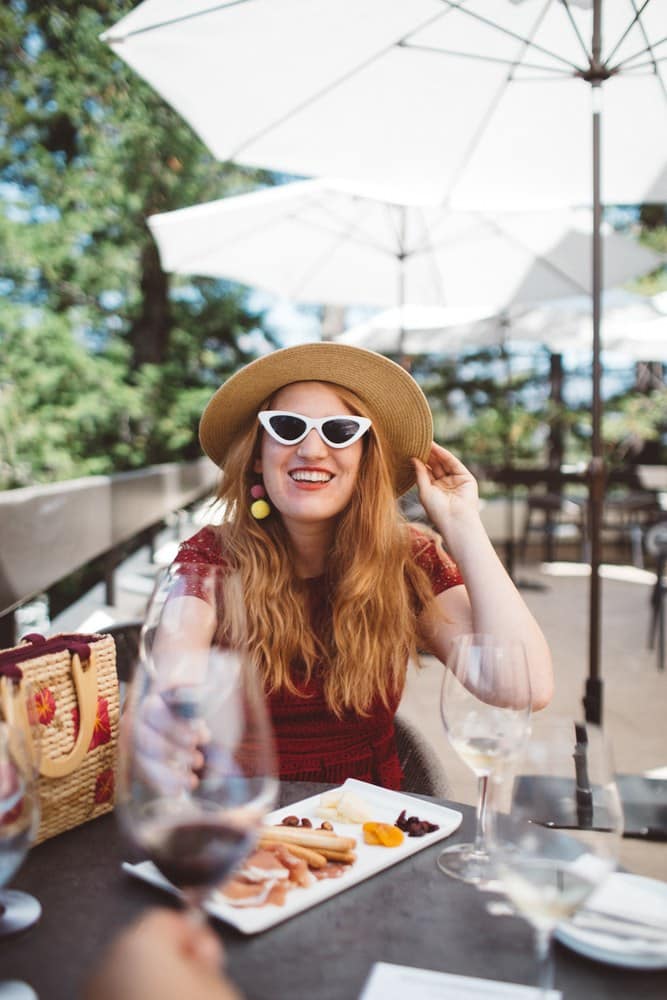 Sterling Vineyards
Ok, Sterling is COOL! It's up in Calistoga on top of a mountain and you have to take a tram to the tasting room. The ride alone is fun, but hot DANG, this winery is stunning once you reach it. We did their silver tasting which was in two parts.
First, a cheese and wine pairing on a patio among the trees. Such a great way to get to know Sterling's wines and enjoy the weather. Then, a self-guided stroll through their winery which is painted a beautiful white color and looks a bit like something you'd find in Spain.
It all ends on their open-air terrace that simply has the BEST view of all of Napa Valley. You can see for miles. I could easily spend all afternoon sipping Sterling's sparkling wines up here on a hot day.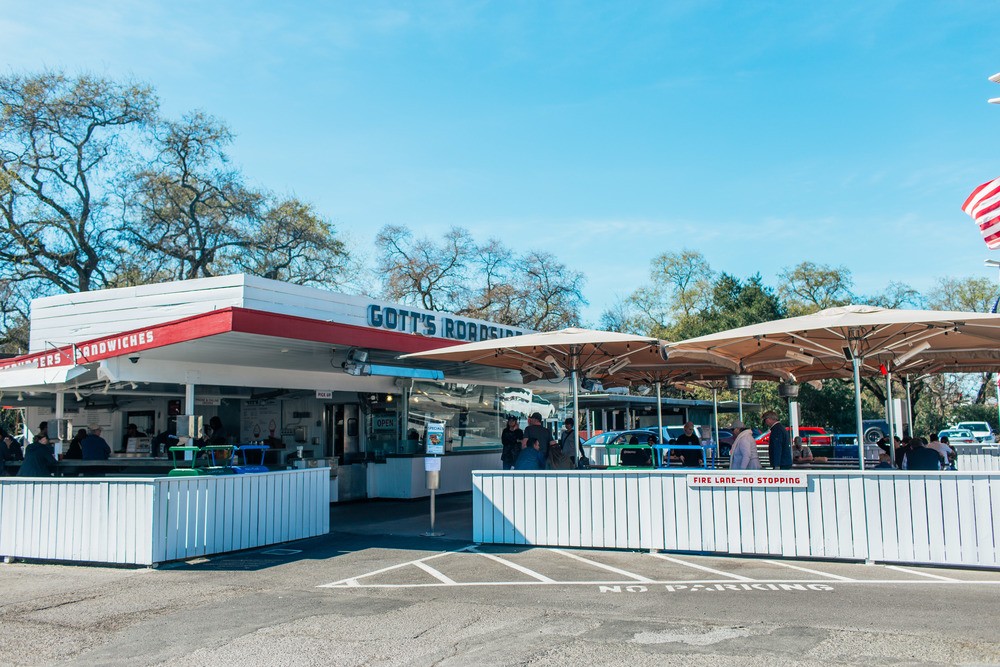 My Favorite St Helena Restaurants
After tasting at one of the wineries near St Helena, it's time to feast! Thankfully there are a few super cute and super tasty St. Helena restaurants to visit. I've been to all of these spots and promise you can't go wrong if you dine at any of these places.
HOLY MOLY, you simply must have dinner at Cook one evening on your St. Helena wine weekend. Cook serves up Northern Italian cuisine, and yes, that means they make their pasta fresh!! Which is literally the best thing to eat after a day of wine tasting.
It's a small joint so I suggest you come for happy hour and stay for an early dinner to make sure you can grab a table (it's beloved by locals and visitors alike, it's a popular place!) Everything on the menu is to die for but my standout dishes are the mussels, fettuccine, risotto, and flourless chocolate cake for dessert.
Gotts is a CLASSIC!! This roadside burger joint is always popping, I guess because a craft burger and a milkshake at 1pm after drinking wine is all you want. You really can't go wrong with any of their burgers but I recommend their Kimchi Burger (YUM!)
Make sure to check out their back patio space which has a cool mural of ice cream cones and "St. Helena EATS"
As I mentioned above, the Clif Family winery usually has a food truck outside that's open when the winery is. They make tasty organic food that is 100% made to order. It's all take out so you don't have to be tasting at the winery to stop by. My favorite things to order from their truck is the Rotisserie Chicken and Firecracker Salad.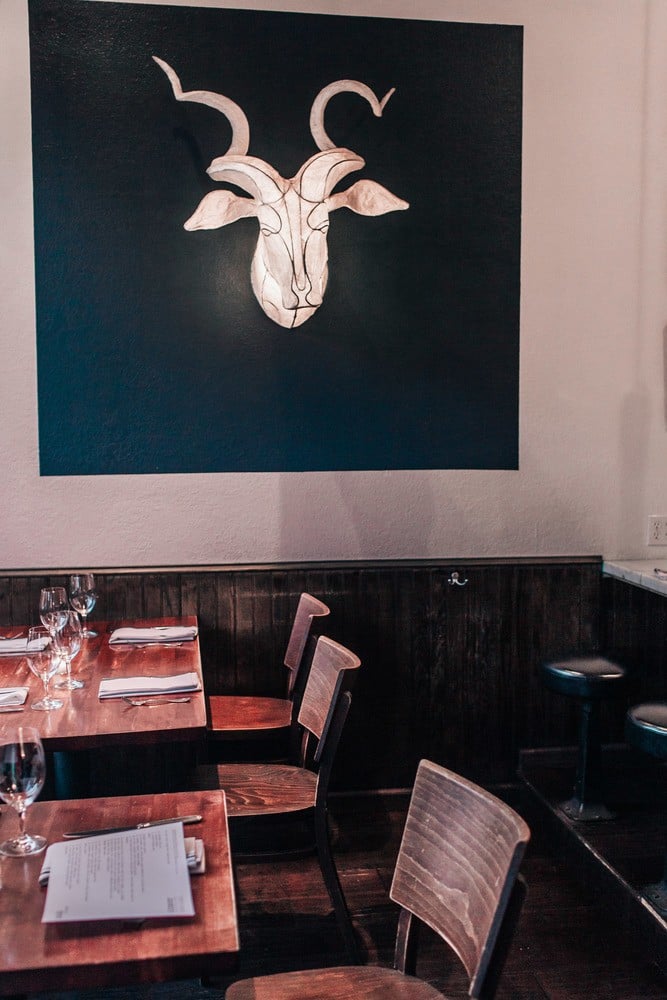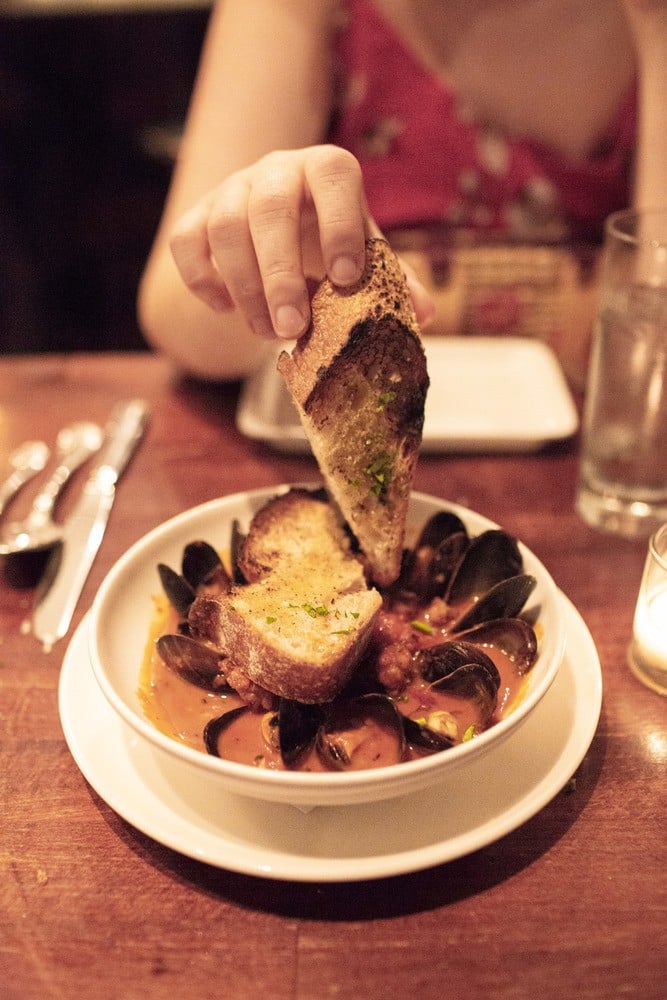 So, Brasswood is a fantastic winery but they also have one of my favorite restaurants in St. Helena on the estate (and a bakery for breakfast goodies!) It's a cozy place with chic industrial accents and skylight windows to let in natural light. On warm days, sit outside on the patio.
I recommend the Grilled Pork Chop and the Risotto & Confit of Duck Leg along with one of their craft cocktails (the Pimms Elevated was my favorite!!)
V. Sattui is a winery but instead of wine tasting here, I love to come to the picnic! They have a massive lawn space with tons of shade and a shop full of cheeses, meats, veggies and snacks so you can build yourself a tasty picnic. During the summer on weekends, they'll probably have a BBQ fired up for extra food options.
This is usually the spot I take guests for lunch when I'm showing friends around as everyone can find something in their budget. Plus, when they have their BBQ rolling and the sun is shining, I usually have to be rolled out of there.
Long Meadow Ranch is a winery but also a super cute farmhouse restaurant on the edge of town. It's a great place to visit for brunch (though warning, you may have to wait in line, so reserve a table if you can!) I love LMR – it almost makes me feel like I stepped in a Southern country estate, it's simply beautiful.
Everything is tasty, but I suggest ordering something from The Smoker (like the pulled pork sandwich) along with a cold glass of their Anderson Valley Rosé. PRO TIP: LMR usually has a special on Yelp where you can get a free app if you check-in.
Hands down the best margarita in Napa Valley. Come for happy hour and site on the wrap-around porch which overlooks the garden and valley.
Looking for a late night spot to sip a glass of wine? The Saint Wine Bar on the main street is THE place for late-night drinks! It's a classy wine lounge that is great for larger groups and even has a cute little outdoor seating area. And, it's part of the St. Helena wine passport!
Where To Stay For A Weekend In Saint Helena
We stayed at the Las Alcobas Hotel and Spa and I honestly can't think of a better hotel to make your home base. I mean, just LOOK at the view outside our private patio room!
On our first morning, I woke up, made coffee from the french press and looked out the window across the vineyards and watched a saw a red fox playing in the grass for a few minutes. Later that day I strolled across the lawn to have a 2 hour massage at the spa (a must for any visit to St. Helena!)
Dip in the pool before happy hour & late night after dinner, Robin and I loved to curl up next to the outdoor firepit and stargaze.
We've had the pleasure of visiting a LOT of wine country regions and hotels, and I can attest that Las Alcobas is one of the best. They just do it RIGHT. Read more on my hotel feature post.
Other Fun Things To Do in St. Helena
Looking for more things to do in St. Helena? Here's some fun things to do!
I hope this helps you plan a fantastic wine tasting trip to St. Helena in Napa Valley! If you have any tips to add, leave a comment below so everyone can see. If you have questions, comment or shoot me a DM on Instagram @thewhimsysoul and I'll be happy to help!
Happy wine tasting.